Order Walking the Camino on DVD and VOD
Order the DVD (postage required)
Mail order your copies today! NTSC All Region DVD Subtitled in the following languages: English, Spanish, Portuguese, French, Italian, German, Dutch, Polish, Japanese, and Korean.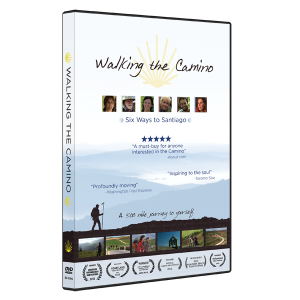 Buy the DVD
Buy the Blu Ray
Buy the Box Set
Buy the Bonus DVD
Ordering the DVD Internationally
The following buttons will help you order the DVD in your area with the lowest possible shipping costs….
United Kingdom
Spain and Northern Europe
Australia
Watch the Film Instantly (download,stream or rent)
Download/Stream/Rent Walking the Camino: Six Ways to Santiago (If you're using one of our "pilgrim" discount codes select "Feature Only" )
Bonus Features are available separately or as a complete package. Feature has subtitles in 11 languages: English, Spanish, Portuguese, Italian, French, German, Polish, Dutch, Danish, Japanese, and Korean questions/instructions can be addressed here: https://www.vhx.tv/contact
 For information about the upcoming release in Australia/NZ please visit our distributor's site at http://www.umbrellaent.com.au/movie/walking-the-camino/
Buy/Rent Now $12.99-Full length feature  84min-Feature Only
Buy Now $14.99 Gold Set (Feature + Commentary + Interview with the Director)
Buy Now $16.99 Director's Choice (Feature + Commentary + Interview+ Bonus)
Buy Now $24.99 Platinum Edition (Director's Choice + Soundtrack + Downloadable Poster)
Buen Camino 10€ Buen Camino 84min Feature w/ Spanish Subtitles