The Pilgrims
Our Pilgrims
Our "cast" of real-life characters runs the gamut of ages, nationalities, religious backgrounds and experiences on the Camino.
Annie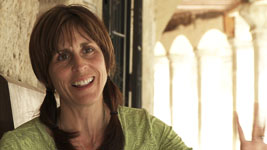 Annie is a spiritually aware woman from Los Angeles, with the typical can-do attitude of many Americans. Although called to do the Camino for spiritual reasons, she soon comes face-to-face with her own innate competitiveness, especially when the Camino's intense physical challenge starts to take its toll on her.
---
Jack & Wayne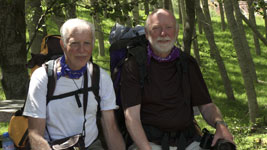 Jack and Wayne are two well-traveled Canadian retirees. Wayne, 65, is a recent widower who walks to honor his wife, and Jack, 73, is an Episcopal priest who performed the funeral for Wayne's wife. Jack always wanted to walk the Camino due to his interest in history. Wayne loves the "one-way" nature of the Camino, which represents leaving his past and walking toward his future.
---
Misa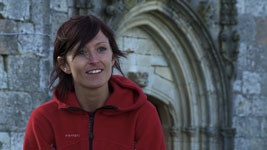 Misa is a health and sports student from Denmark who considers herself to be spiritual but not religious. She sets out to travel alone to become more connected with herself, but when she meets William, the only other pilgrim that can keep up with her notoriously fast pace, her intentions get pushed aside.
---
Sam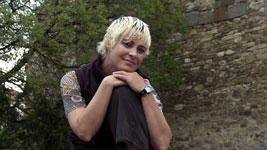 Sam is a Brazilian woman in her thirties who was desperate for some force to turn her unhappy life around. When our crew met her, Sam had just left behind everything she knew in Rio de Janeiro, purged her life of nearly all possessions, and fled with a one-way ticket to Spain. Sam suffered from clinical depression, and she decides to throw away all of her prescribed medication, trusting that the Camino – the meditative act of walking, the nature, and the people met along the way – will restore balance to her body's chemistry.
---
Tómas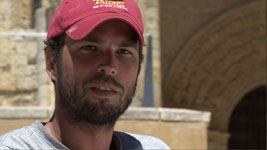 Tomás, 30-something, athletic and very charming, was torn between kite boarding on the coast or "hiking" the Camino. He chose the Camino because it was more of a physical challenge. He gets what he asks for, as his biggest challenge becomes the immense physical pain that he experiences. He must learn to persevere as the struggle to complete the Camino becomes more painful with every step.
---
Tatiana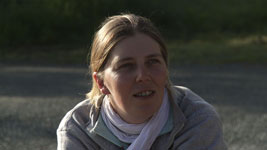 Tatiana is a French 26 year old single mother who sets out for the Camino because of her devotion to God. She brings her brother Alexis and three-year-old son along with her on the trek. Originally, Tatiana was delighted to have her brother with her on the Camino, especially for sharing the responsibility of her son. Things quickly become challenging for her, however, as Tatiana and Alexis begin to argue at every turn. Her quest to seek a richer relationship with God is tested as she is forced to face the problems in the relationships with her brother.
---